Back
The Sarakatsan Huts, 2006 (1997)
The Sarakatsan Huts, educational programme for children from 7-8
The programme's folder contains the following educational material: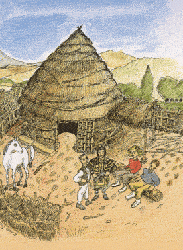 a. Student's book ('Danae and I in the straw huts of a fairy tale world'),
b. Teacher's book ('The Sarakatsan Hut', with more versions of folk tales and song lyrics),
c. Paper craft materials (paper weaving),
d. Cassette with songs.
Editing-Texts: Foteini Oikonomidou
Illustration: Zisis Skabalis
Adaptation of fairy tales: Egli Brouskou
Music: Yannis Chouliaras
Song: Katerina Naoum, Rena Frangiadaki, Chrysoula Gouda
Photographs: Yannis Papanikolaou
FOLKLIFE AND ETHNOLOGICAL MUSEUM OF MACEDONIA-THRACE, THESSALONIKI 2006 (2nd edition), 1997: (1st edition)
Monolingual publication: Greek
The programme has been elaborated in the framework of the Programme 'MELINA - EDUCATION AND CULTURE'
Τραγούδι: Κατερίνα Ναούμ, Ρένα Φραγκιαδάκη, Χρυσούλα Γούδα
Φωτογραφίες: Γιάννης Παπανικολάου
ΛΑΟΓΡΑΦΙΚΟ ΚΑΙ ΕΘΝΟΛΟΓΙΚΟ ΜΟΥΣΕΙΟ ΜΑΚΕΔΟΝΙΑΣ-ΘΡΑΚΗΣ, ΘΕΣΣΑΛΟΝΙΚΗ 2006 (2η έκδοση), 1997: (1η έκδοση)
Το πρόγραμμα εκπονήθηκε στο πλαίσιο του Προγράμματος ΜΕΛΙΝΑ: ΕΚΠΑΙΔΕΥΣΗ-ΠΟΛΙΤΙΣΜΟΣ.