Educational programs archive
Educational programs archive
Back
The Sarakatsan Dress, 1997, in the Programme 'MELINA – EDUCATION AND CULTURE'
For children aged 7-8

With minor modifications the programme can be adapted to children aged 6.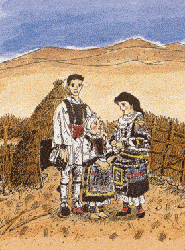 Duration: 30 days

Location: School. Visits are proposed to the Folklife and Ethnological Museum, the Sarakatsan Museum in Serres or other local societies with collections of Sarakatsan items.

Purpose: acquainting the children with aspects and values of our traditional culture and making them more aware of their cultural heritage
Objectives: a.teaching the children about Sarakatsan costume, for men and women, and b. the way the members of traditional communities dressed
A few words about the programme: Through the folk tale 'Danae, the dream and Sarakatsan Wollies', Danae, the heroine of the programme, introduces the children to the men's and women's costumes, the function of their dress (protection, decoration, distinguishing different sexes and ages), the materials used to make their clothes and the features of each item of clothing, and what their clothes were called in their own language. Some of the activities used to familiarize children with the Sarakatsan nomads, and the way they dressed, include making the skirts worn by the Sarakatsan men and women, using paper, various games and folk tales, composing their own story, singing special songs about Sarakatsan dress.

The programme is designed on a work plan focusing on Sarakatsan costumes and is taught using educational material available at the Museumshop. This includes:
a. student's book ('Danai, the dream and the Sarakatsan woollies'),
b. teacher's book ('Sarakatsan Dress'), containing additional versions of folk tales, guide for children to compose their own story and songs,
c. paper craft materials for children to make skirts,
d. cassette with songs.
Editing: Foteini Oikonomidou
Texts: Nelli Melidou-Kefala
Illustration: Zisis Skabalis
Adaptation of fairy tales: Egli Brouskou
Music: Yannis Chouliaras
Song: Katerina Naoum, Rena Frangiadaki, Chrysoula Gouda
Photographs: Yannis Papanikolaou
The programme is taught mainly in the classroom. Some of the activities may be covered through a visit to the Museum, after teachers have reached agreement with the Museum staff.

Planning: Foteini Oikonomidou-Botsiou
Search
Search