Educational programs archive
Educational programs archive
Back
Traditional Pottery, 1996, in the Programme 'MELINA – EDUCATION AND CULTURE'
For children aged 7-8
With minor modifications the programme can be adapted to children aged 6.
Duration: 1 hour Χ 30 days
Location: School. Visits are proposed to the Museum and a Pottery Workshop (preferably a traditional one).
Purpose
: acquainting the children with aspects and values of our traditional culture and making them more aware of their cultural heritage
Objectives: familiarizing children with clay, its potential uses and importance in the traditional community, and helping them understand the art of pottery yesterday and today
The programme is designed on a work plan focusing on traditional ceramics
A few words about the programme: The heroes of the programme, 'Nerosfyrihtra', 'Koumbaras' and their grandfather, use dialogues, games, constructions, painting, songs, drama, stories, visits to workshops and museums to teach the children about clay, ceramics, ceramic ware, their significance in traditional society, and their place in the Folklife Museum today.
The programme is taught using educational material available at the Museumshop. This includes:
a.student's book ('The Water-whistle, my brother, my Piggy-Bank, our Grandfather's workshop and me),
b.teacher's book ('Traditional Pottery', containing 1. adapted folk tales, 2. songs and suggestions on how the children can write their own songs using themes from the programme),
c.video with the story of Nerosfyrihtra and Koumbaras,
d.32 slides showing main stages in ceramic process,
e.craft material.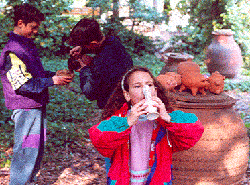 Editing-Texts: Foteini Oikonomidou-Botsiou
Contribution at the material research and organization: Peri Pardali
Illustration: Zisis Skabalis
Adaptation of fairy tales: Egli Brouskou
Music: Yannis Chouliaras
Lyrics: Yannis Kokkonis
Song: Katerina Naoum, Rena Frangiadaki, Chrysoula Gouda
Video: S. Chaidemenos, Foteini Oikonomidou-Botsiou
Photographs: Yannis Papanikolaou

The programme is taught mainly in the classroom. Some of the activities may be covered through a visit to the Museum, after teachers have reached agreement with the Museum staff.

Planning: Foteini Oikonomidou

Implementation: Foteini Oikonomidou, Peri Pardali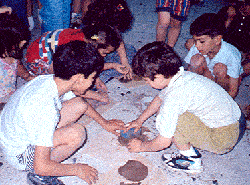 Search
Search