Educational programs archive
Educational programs archive
Back
Traditional Weaving, 1986, 1987-1988
For children aged 8-10

The programme was one of a sequence of four programmes (the other three were: 'Wheat-Bread', 'Traditional Team Games' and 'Our own Museum'), held over the period 1986-1989. .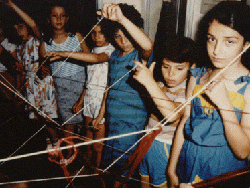 The basic intention was that the children participating in the 'wheat or weaving' programmes - held at the same time - should also take part in the 'Traditional Team Games' and 'Our own Museum' programmes which followed them. In other words, all the children should take part in three of the four programmes. None of the programmes, of course, excluded children taking part for the first time. The purpose was to record the children's reactions from one to another programme (three programmes).
Duration: 2 hours

Location : Folklife and Ethnological Museum
Purpose: acquainting the children with aspects and values of our traditional culture and making them more aware of their cultural heritage
Objectives: teaching the children about the phases of the art of weaving in traditional society; making them aware of the 'transformations' of wool from unprocessed raw material to knitted yarn and then woven material, through the processes of pre-industrial technology (tools)
The programme was linked to the thematic unit related to weaving in the Museum's permanent exhibition.
A few words about the programme: The children learn about the phases of the weaving process from the shearing of the sheep through the weaving on the loom. They are assisted by the tools and photographs in the weaving exhibit, as well as by the weaver who demonstrates her craft; they also take part in various activities (group games, games of observation, drama activities, constructions, weaving on individual looms, painting and music.
Implementation: Foteini Oikonomidou, Chrysoula Gouda
Planning: Foteini Oikonomidou
Search
Search