Educational programs archive
Educational programs archive
Back
The Sarakatsan Huts, 1997, in the Programme 'MELINA – EDUCATION AND CULTURE'
For children aged 7-8

With minor modifications the programme can be adapted to children aged 6.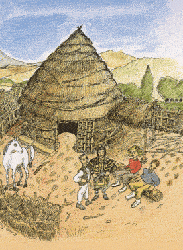 Duration: 1 hour Χ 30 days

Location: School. Visits are proposed to the Folkife and Ethnological Museum, the Sarakatsan Museum in Serres, the Sarakatsan village maintained by the Sarakatsan Association of Kordelio, Thessaloniki, or other local societies with collections of Sarakatsan items.
Purpose: acquainting the children with aspects and values of our traditional culture and making them more aware of their cultural heritage.
Objectives: Familiarizing the children with the Sarakatsan hut, a dwelling which has many characteristics in common with primitive homes of the prehistoric era; showing the children how it was erected and how it served as a home, dairy, school and storehouse for the nomadic populations. It is intended that this will help the children to develop more awareness of their environment.
The programme is designed on a work plan focusing on the Sarakatsan hut.

A few words about the programme: Through the folk tale 'Danae and I in the straw huts of afairy tale world', the children experience the construction of the hut in all its stages; they learn how the raw materials (branches) are woven together, and they are taught to see the various stages in the evolution of a project. They are invited to participate in a host of activities, making things, painting, listening to stories, singing, making paper models, and visiting places where the Sarakatsan presence can still be seen (folk museums, Sarakatsan village).

The programme is taught using educational material available at the Museumshop. This includes:
a. student's book ('Danae and I in the straw huts of a fairy tale world'),
b. teacher's book ('The Sarakatsan Hut', with more versions of folk tales and song lyrics),
c. paper craft materials (paper weaving),
d. cassette with songs.
Editing-Texts: Foteini Oikonomidou
Illustration: Zisis Skabalis
Adaptation of fairy tales: Egli Brouskou
Music: Yannis Chouliaras
Song: Katerina Naoum, Rena Frangiadaki, Chrysoula Gouda
Photographs: Yannis Papanikolaou

The programme is taught mainly in the classroom. Some of the activities may be covered through a visit to the Museum, after teachers have reached agreement with the Museum staff.

Planning-Implementation: Foteini Oikonomidou
Search
Search