Educational programs archive
Educational programs archive
Back
Sarakatsan Playthings, 1997, in the Programme 'MELINA – EDUCATION AND CULTURE'
For children aged 7-8
With minor modifications the programme can be adapted to children aged 6.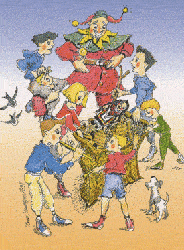 Duration: 1 hour Χ 30 days

Location: School. Visits are proposed to the Folklife and Ethnological Museum, the Sarakatsan Museum in Serres or other local societies with collections of Sarakatsan items.
Purpose: acquainting the children with aspects and values of our traditional culture and making them more aware of their cultural heritage
Objectives: teaching the children about Sarakatsan playthings, many of which are the same as traditional games played all over Greece. Encouraging the children to make and play their own games, using material from their own environment.
The programme is designed on a work plan focusing on Sarakatsan playthings and is tought using educational material available at the Museumshop. This includes:
. student's book ('A sackful of Sarakatsan Toys'),
b. teacher's book ('Sarakatsan Playthings'),
c. educational games (paper craft materials, cloth materials),
d. cassette with songs.
Editing: Foteini Oikonomidou
Texts: Rena Botsiou
Illustration: Zisis Skabalis
Adaptation of fairy tales: Egli Brouskou
Music: Yannis Chouliaras
Song: Katerina Naoum, Rena Frangiadaki, Chrysoula Gouda
Photographs: Yannis Papanikolaou
A few words about the programme: In their Sarakatsan game bag the children will find a variety of items (balls, dolls, a whistle, as well as stones, little pieces of wood and loom-woven cloth) all made of natural materials, hand-made toys and games, made by the children themselves or their parents. The bag also contains other toys and games played without the need for any equipment; most of them are group or competitive games; some of the items are just toys, others are things the adults use as tools, like a distaff or an instrument used for carding wool. These items teach the children about their own roles and about the division of labour between the sexes …

Crafts and painting, solitary and group activities, stories and songs are all used to transport the children to a world where there is no dependence on mechanical or electrically powered toys and games.

The programme is taught mainly in the classroom. Some of the activities may be covered through a visit to the Museum, after teachers have reached agreement with the Museum staff.

Planning-Implementation: Foteini Oikonomidou
Search
Search