Educational programs archive
Educational programs archive
Back
Water, water everywhere: 2001
For children aged 5-8

Duration: 5-10 days

Location: School, FEMM-Th (for specific activities)

Purpose: acquainting the children with aspects and values of our traditional culture and making them more aware of their cultural heritage.
Objectives: helping children conceive water as a natural element and become aware of its importance as a source of life and power. Also, acquainting the children with traditional water-carrying utensils by comparing them with modern ones, and familiarizing them with the watermill and its function.

The programme is linked to the permanent exhibition staged by FEMM-Th 'At the Mills of Macedonia and Thrace: Watermills, Sawmills, Cloth Finishing Waterfalls, Fulling Mills in Traditional Society'.
A few words about the programme: water as a source of life and power!Games, joy and discoveries for children.

The programme consists of 3 units:
a. 3 forms of water: liquid, solid and aerial.
b. water utensils, past and modernity
c. water as a source of power (watermills for grinding cereals, sawmills for cutting the wood, cloth-finishing waterfalls and fulling mills for whirling and fulling woolen clothes. Water-powered machines of the pre-industrial age which are closely related to the basic human requirements of food, shelter and clothing.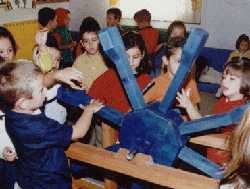 Using music-kinetic games and games involving water, illustrated stories and songs for water; painting, constructions, tales and stories, video with 3-D cartoons, rich teaching aids and activities starring Nerocchio, children gain experiences full of water! They are becoming aware of water's value as a source of life now and then, and through the construction and operation of the wooden paddle-wheel realize the importance of water-power in traditional society.
The programme is taught using educational material available at the Museumshop. This includes: a. teacher's book, including modern version of folk tales ('water, water everywhere'), b. illustrated story of a water drop, c. colouring book, d. cartoon video ('Adventures of Nerocchio'), e. CD of songs about water.

Editing: Foteini Oikonomidou
Texts: F. Oikonomidou, Klio Botsiou
Illustration: Zisis Skabalis
Adaptation of fairy tales: Egli Brouskou
3d animation: Sotiris Botsios
Music: Konstantinos Sarrirostas
Song: Katerina Naoum, Klio Botsiou, Konstantinos Sarrirostas, Sotiris Botsios, Dimitris Botsios
Voice (Nerocchio): G. Orfanidou

The programme is mainly taught in the classroom. Some of the activities may be covered through a visit to the Museum, after teachers have contacted the Museum staff.
Planning-Implementation: Foteini Oikonomidou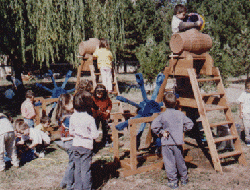 Search
Search